The Plymouth County Correctional Facility in Plymouth, Massachusetts was looking for a high efficiency upgrade to the domestic hot water system.  The boilers/tanks system was ten years old and was showing signs of deterioration and inefficiency. The system in question fed the showers and lavatories for the residents of the facility.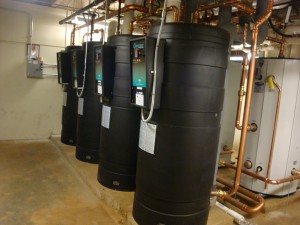 SAR Engineers, out of Quincy was hired to design and oversee the project. Jim Luce and Greg Campbell were the project engineers.  SAR chose PVI Conquest water heaters and PVI storage tanks as the hot water system for the new installation, relying on years of experience and success with PVI equipment.  The Conquest units operate at between 96-99% thermal efficiency, throughout turndown and are built with the revolutionary AquaPLEX, duplex 2101 stainless steel.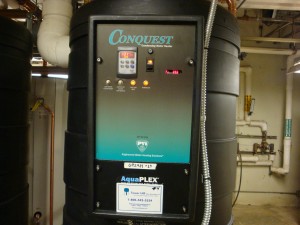 The tanks were also constructed of AquaPLEX.  Needless to say, the installation was installed for the long terms needs of the facility, as the Conquest units carry a 15-year warranty and the tanks, a 25-year warranty.  Ambient Temperature Corp. was the installing contractor for the project. Final inspection of the mechanical room at the facility was completed the week of February 3rd and this system is providing hot water for over 1350 residents.